SIFNOS

KATO PETALI

ABOUT KATO PETALI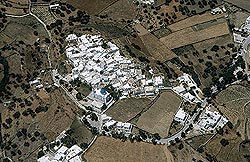 Petali is the name of two villages, Kato Petali (Petali Below) and, because on its location on the hill above, Pano Petali (Petali Above). In the local dialect, Petali means stony height, and is a commonplace name on the island.

Kato Petali is east of Apollonia, built at the foot and on the gentle slopes of a hill. The building that stands out on this village is that of the church of Zoodochou Pigis (1894). To raise funds for its maintenance and restoration, the villagers sing the Virgin Mary's Carols on January the 1st, the same melody as the Christmas carols accompanied by local instruments. Of great interest is the stone-covered courtyard of this church, with its traditional design patterns, as well as the architecture of the houses, the object of a study by the German academic Friedrich Wagner and his students. The old building that used to house the old primary school (1924-1994) now houses the Music School of Siphnos.
Please share your opinion of it with other travelers. Write a review!